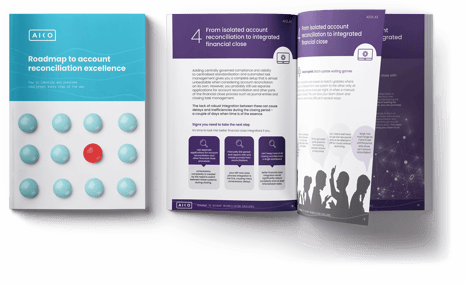 About the eBook:
This eBook will provide you with a four-step roadmap to achieve Account Reconciliation process excellence. The topics include:
Standardisation of Account Reconciliation process across all your group companies

Automation of manual and repetitive tasks
Implementation of centrally governed compliance and visibility
Integration of Account Reconciliation and other financial close processes like Journal Entries, Intercompany Invoicing and Closing Task Management
What this eBook is about?
Take away the guesswork and use this roadmap to learn where you are in your account reconciliation journey and how to move forward. However, you should bear in mind that the challenges raised further along on the journey are equally valid at earlier phases. Regardless whether you take a step-by-step approach or prefer to implement all best practices at once, the road to excellence in account reconciliation is the same. You start with centralised standardisation before proceeding to task automation and onto centrally governed compliance and visibility. A fully integrated financial close process is the final step on the road to excellence.
Roadmap to account reconciliation excellence
1. From disparate processes to centralised standardisation
As much as they may be a time-honoured tradition
in accounting departments, there are simply too
many frustrating examples of what can go wrong with
spreadsheets, especially when it comes to account
reconciliation.
2. From centralised standardisation to task automation
Now that you have taken your standardisation to the
next level with a centralised system architecture and
improved policies, you can finally get some real value
out of automation. But where should you start and what
else might be holding you back from greater efficiency
and account reconciliation excellence?
3. From task automation to centrally governed compliance and visibility
Now that you have deployed some automation solution
such as robotic process automation (RPA) or other
applications to automate tasks like reconciliation of
accounts with zero activity during the period, you have
probably already eliminated several inefficiencies.
4. From isolated account reconciliation to integrated financial close
The lack of robust integration between these can cause
delays and inefficiencies during the closing period –
a couple of days when time is of the essence.